Launched in 2004, RoboBraille is a web and email service capable of converting documents into formats such as Braille, Daisy and MP3. RoboBraille can even convert images into formats accessible for the blind and visually impaired.
Use
Individuals can use RoboBraille for free, as long as it is for personal non-commercial use only.
RoboBraille for academic institutions is available through SensusAcess.
Commercial use is prohibited.
Services
The four main categories of services offered are Braille services, Audio services, Accessibility services and E-book services.
Braille services

Translation to and from contracted and uncontracted Braille.
Many different languages are available, of which most are European languages.
Examples of supported document types: HTML documents, RTF files, Microsoft Word documents (doc, docz, Word xml, etc), gif, jpg, dcx, j2k, PDF, and more.
Audio services
All supported document types can be converted into MP3-files.
Certain files, including well-structured Word documents, can be converted into Daisy Talking Books.
Docx files containing MathType can be converted into Daisy Talking Books with spoken math.
The audio services are available in many different languages, of which a majority are European.
Accessibility services
Many otherwise inaccessible documents – such as image files in jpg, gif, jpx, tiff or image-only pdf format – can be converted by RoboBraille. The list of document formats that can be converted is very long and includes most things that you will come across online.
Examples of formats that RoboBraille can convert from:
gif
djv
bmp
dcx
pcx
j2k
jp2
djv
pdf
image-only pdf
World files
RTF files
PowerPoint files
E-book services
RoboBraille can convert a wide range of documents into EPUB, EPUB3 and Mobi Pocket (Amazon Kindle) e-book formats. This includes EPUB3 with media overlay.
Development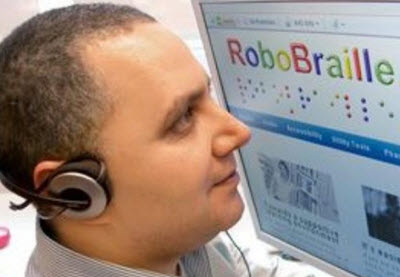 RoboBraille was created in Denmark by alternate media specialist Svend Thougaard and Lars Ballieu Christensen, who is a computer scientist and social entrepreneur.
The two inventors received a lot of support from the Danish Sensus ApS, The National Danish Center for Visual Impairment for Children and Youth, and The Royal National College for the Blind in Hereford, United Kingdom. They also received funding from the Danish Government, the European Commission and several private charitable foundations.
Examples of organisations that contributed to the development of RoboBraille:
St Joseph's School for the Blind, Ireland,
The National Council for the Blind of Ireland
Medison, Poland
The Lithuanian Association of the Blind and Visually Handicapped
Hilfsgemeinschaft der Blinden und Sehschwachen Österreichs, Austria
Association Valentin Haüy, France
Associazione Nazionale Subvedenti, Italy
CIDEF, Portugal
The Pancyprian Organization of the Blind, Cyprus
Awards
RoboBraille has recieved many awards. There are a few examples:
The British Computer Society Social Contribution Project Award (2007)
The British Computer Society's Social Contribution Award (2007)
The European Commission eInclusion Awward for e-Accessibility (2008)
The Well-Tech Award for Innovation and Accessiblity (2008)
The National eWell-Being Award for Reaching the Digitally Excluded (2009)
The Access IT Award for Learning (2009)RoboBraille recieved this award for being an affordable eLearning solution
The BETT Award (2010)
The WISE 2012 award from Qatar FoundationRoboBraille recieved this award in recognicion of contribution to inclusive and barrier-free education.