Braigo is a Braille printer created by 13-year-old Shubham Banerjee in January 2014 for his 7th grade school science fair project in California, USA. Banerjee utilized compinents from a Lego Mindstorms EV3 kit, hence the name Braigo. Brai(lle) + (Le)go = Braigo.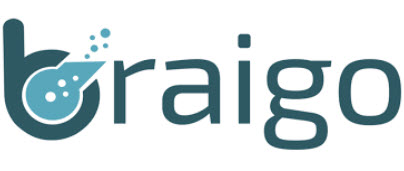 The Lego Mindstorms EV3 kit includes, among other things, a microprocessor, electric motors, sensors and actuators.
While a conventional Braille printer retails for 1,900 USD and up, Banerjee's Braigo can be built much cheaper. When Banerjee built his first Braigo, a Lego Mindstorms EV3 kit cost about 250 USD and Banerjee also used some commonly available hardware products worth approximately 100 USD.
The inventor
Shubham Benerjee was born in Hasselt, Belgium but moved to California, USA with his family when he was four years old and has been residing in California ever since. He completed in elementary schooling at Don Callejon School in Santa Clara. In middle school, he joined the Magnolia Science Academy for a couple of months, before moving to Champion School in San Jose to continue middle school there.
"I had to build and break 7 different models before settling on a final one that was able to print the six dots in a desired sequence according to the Braille standards. After which, I programmed the letters A-Z. I used a normal calculator paper to provide the proof of concept."

– From the abstract Banerjee submitted to the Synopsys Science Fair
Braigo v1.0
One of the key features of the Braigo is that it can be fairly easily assembled based on instructions that have been published online and that can be obtained there without charge. Also, the components are readily available in retail and cost much less than the price of a conventional braille printer or embosser.
When Banerjee created the Braigo, he deliberately restricted himself to not using more than one Mindstorms EV3 kit.
After creating the Barigo 1.0, Banerjee made both building instructions and software available as open source. This included uploading building instructions to his YouTube channel and uploading the software project file .ev3 on the LegoMindstorms EV3 community page. Detailed directions on how to build a Braigo has since been published in Makezine, a bimonthly magazine focused on DIY and DIWO.
Braigo Labs Inc.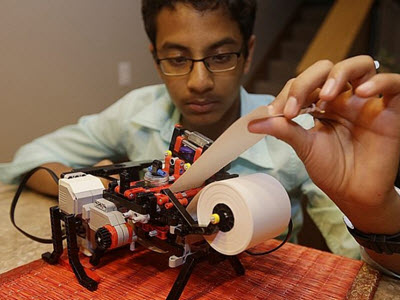 In August 2014, the company Braigo Labs Inc was formed with Banerjee to work on Braigo version 2.0. Since the inventor was still a minor, his mother Malini Banerjee was named President of the company, with Shubham Banerjee listed as Founder.
The mission of the company is registered "Our mission is to bring "Humanely Optimized" technologies that are innovative, affordable simple and catering to solving life's problem".
In November 2014, Intel Capital announced that they had invested seed money in Braigo Labs Inc, making Banerjee one of the youngest persons ever to recieve this type of venture capital investment for a start-up in Silicon Valley.
Braigo version 2.0
Braigo version 2.0 was first demonstrated by Banerjee in September 2014. It was constructed after getting feedback on the version 1.0 from the Braille-litterate community.
Examples of features:
Comparatively inexpensive
Not noisy
IOT enabled
Light weight
Contains new technology in addition to Intel's Edison Chip paired with a development board
"I want to bring a Braille printer to market that's at an affordable price point. To do that I needed something small and powerful to drive the system. Intel Edison is a great fit for that. (…) Intel's new chip Edison was the perfect choice for being connected to the cloud/internet and at the same time reduces the BOM price by not using separate components/drivers. It is less power hungry and has the future possibilities of using batteries for using in remote places of the world. The design uses new (patent pending) technology and also using Edison opens up the possibility to potentially use the same mechanism for other assistive technology products, like a refreshable reader and a display. The ability to use the backend cloud for software upgrades (without requiring any user interface) can make it much easier for a visually impaired person to install drivers or programs. The capabilities of Edison enabled me to do a whole set of use cases I haven't previously thought about. For example, when we wake up in the morning we look at our smartphone or tablet to see the headline news. With Edison, we've set it up so the CNN headlines are printed off automatically every morning."
– Shubham Banerjee
Microsoft Windows
In 2015, Microsoft announced that Shubham Banerjee is working with the Windows team at Microsoft to integrate Braigo drivers with Windows 10 for easy deployment.
Examples of Awards & Recognitions
| | |
| --- | --- |
| Year | Info |
| 2014 | Nominet Trust 100 Winner |
| 2014 | Technology Innovation of the Year Award from Trusted Reviews Time Inc. UK |
| 2014 | Readers Digest's Best of America Award |
| 2014 | Winner of the Synopsys Outreach Foundation's n+1 Prize |
| 2014 | OPEN Silicon Valley's Youth Innovator Award |
| 2014 | NBC & AACIAPA Heritage Month Honoree |
| 2014 | Maker Faire Editor's Choice Ribbon |
| 2014 | White House Maker Faire Award |
| 2014 | The Queen Latifah Show & Lego Trophy |
| 2015 | Popular Science Invention Award |